We also provide our users to integrate coinremitter plugin into wordpress by using individuals website.
In this paragraph we will give you step by step information about how to integrate plugin.
1) Firstly, before integration of coinremitter you must have to install woocommerce plugin and have to activate first.
2) Click on PLUGIN option (you will find It In sidebar). Then select on ADD NEW option (you will find on the top of page)
3) After selecting that option new page will pop up and iIt shows you different plugins. In contrast, you must click on search option and type COINREMITTER CRYPTO PAYMENT GATEWAY.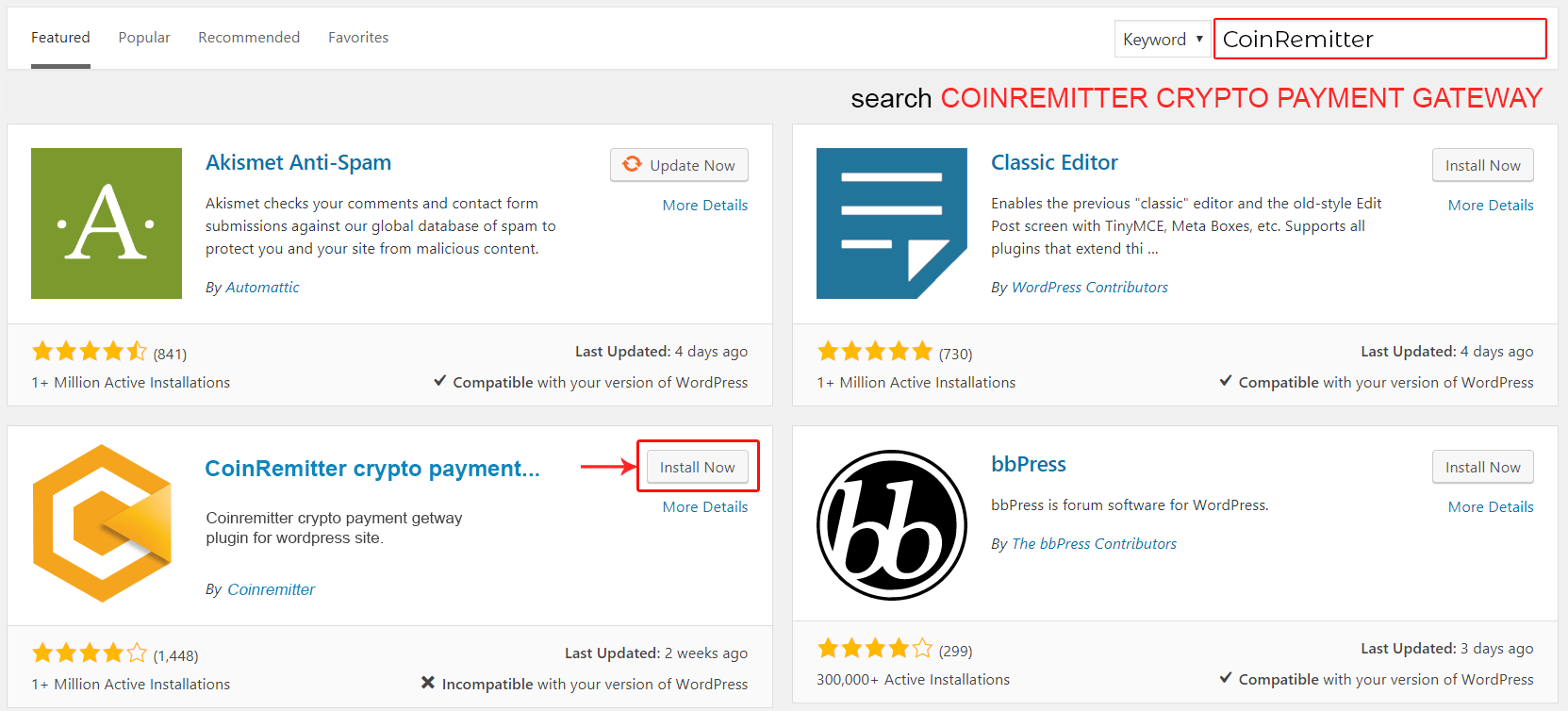 4) After finding plugin click on the INSTALL NOW AND Install it.
5) After the completion of plugin, click on ACTIVATE. When you activate our plug in you will see COINREMITTER appear in sidebar.

6) Congratulations! You have successfully installed our plugin on your website.
How to create a wallet on coinremitter plugin?
After successfully installing Coinremitter plugin on wordpress now it's time to create a wallet on our plugin.
Here is the step by step process of how to create a wallet on coinremitter plugin.
1) First open coinremitter and if you don't have an account there then signup first or if you are already a member of our gateway then login on the website.
2) When dashboard page appears on the screen then click on wallet option if you haven't created a wallet on coinremitter then click here to know more about How to create a wallet on coinremitter.
3) If you already have a wallet on coinremitter then click on the wallet which will take you on the wallet address.
(Note: if you have already created a litecoin wallet on coinremitter website then you should be required to create a litecoin wallet on plugin because if you create different coins wallets at the same time then the credentials of the wallet won't work. For example if you have bitcoin wallet on coinremitter and you create litecoin wallet on the plugin then API key of bitcoin won't work in litecoin wallet. Therefore, make sure and be transparent while making wallet however, it requires the same wallet at both places.)
4) Click on Credential and you will get your API key and Password.
5) Copy your API key and set a new password as if you want to change otherwise it'll be okay.
6) Now go back to wordpress and click on Coinremitter plugin.
7) After clicking on it. Plugin's main page will appear. Click on Add wallet option and one box will appear.
8) This box will show you the options of coins but you must select the that coin which you have already created on Coinremitter website. For example if you have litecoin wallet on the website
then, you must select litecoin here too.
9) After that it will ask for API key and password. Paste your API key and write down your password.
10) After filling all the information click on Verify & Add. congratulations! You have successfully created your wallet on Coinremitter plugin.
11) Now you can easily accept coins from your buyers in your coins wallet just by using coinremitter plugin.