Here we have come up with how crypto payment gateway integration is essential for your website these days.
As the world goes digitally day after day, the vast improvement in the shopping experience has been implemented.
It doesn't matter whether your business is an online store, traveling business, an organization, or any kind of business.
You must need a crypto payment gateway that is fast, secure, affordable, and offers a seamless checkout experience. Because many people nowadays tend to shop online rather than going to the store.
This means that every merchant who wants to increase sales and wants their business recognized worldwide should consider crypto payment gateway integration.
Since these payment gateways handle very important transactions on your site, you want to ensure that everything happens seamlessly & perfectly.
In this article, we are going to address the important points related to the crypto gateway that you need to know.
So without any further due, let's get straight to the quick understanding of the crypto payment gateway and the way it works.
What is a crypto payment gateway?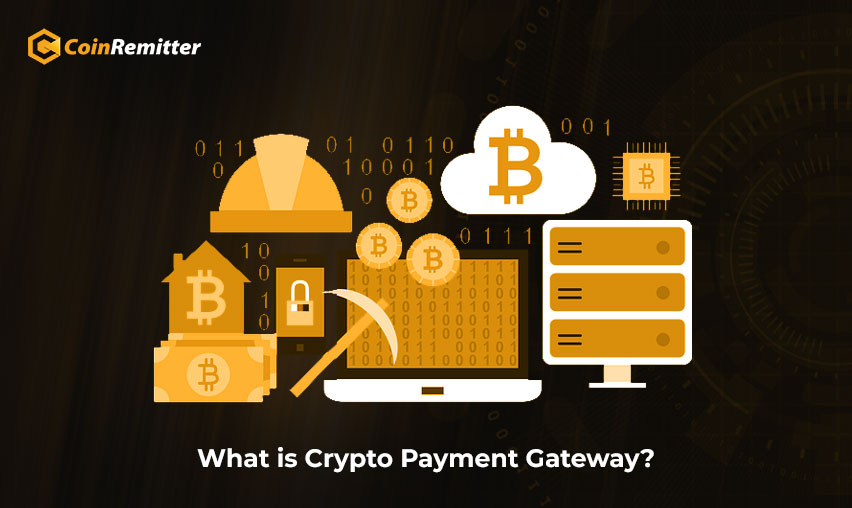 People have been using cryptocurrencies extensively for many years, and many companies around the world have already adopted crypto payment processing services on their websites.
To simply understand, the payment gateway which accepts cryptocurrency as payment is known as crypto payment gateway.
One can make a payment through various types of cryptocurrencies like Bitcoin, Litecoin, Ethereum, Ripple, etc.
Using a crypto gateway can eliminate the intermediaries involved in the process, which ultimately fastens the payment process.
The crypto payment gateway's unique feature is transparency. This gateway makes payments easy, ensures the privacy and security of transactions.
If you frequently make transactions then this is the gateway that allows you to send and receive money instantly across the globe.
Furthermore, as we have already mentioned above that there is no involvement of a third-party. The amount will go straight to your wallet without any chance of being hacked or theft.
Let's look at some of the questions that need to be addressed prior to the integration of the crypto gateway.
How does the cryptocurrency payment gateway work?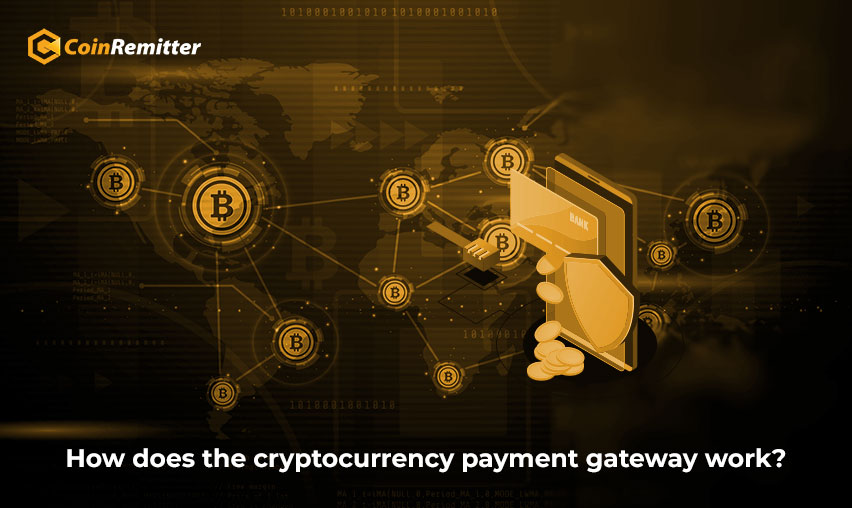 There are mainly two major differences.
First, a client pays through a digital wallet, not with the credit/debit card.
Second, the transaction needs to done via cryptocurrency, not with the fiat currencies like USD, AUD, RUPEES, etc.
Let's understand it step by step.
In the first step, your customer will go to your website and places an order through submit or its equivalent button on the checkout page.
After that, the website or the e-commerce platform takes the customer to a crypto payment gateway where the customer will enter all the relevant information about the coin. (Like wallet address and key)
However, then the customer will have to enter the wallet address and private key in order to send the amount. (The private key is similar to the bank account password.)

(NOTE: Keep your private key as confidential as you can. If someone steals it, or if you lose it, your amount is at high risk of being stolen. Keep it safe.)

Once the payment has been made and validated, then the transaction will be posted on the (coin's) blockchain public ledger showing payment from your customers' public address to your public address.
ISN'T IT SIMPLE?
This whole process is highly secured and payments are made without the need for intermediaries.
Now let's talk about some of the advantages if you're integrating the crypto payment gateway to your web.
Know the advantages your business can gain from using the crypto payment gateway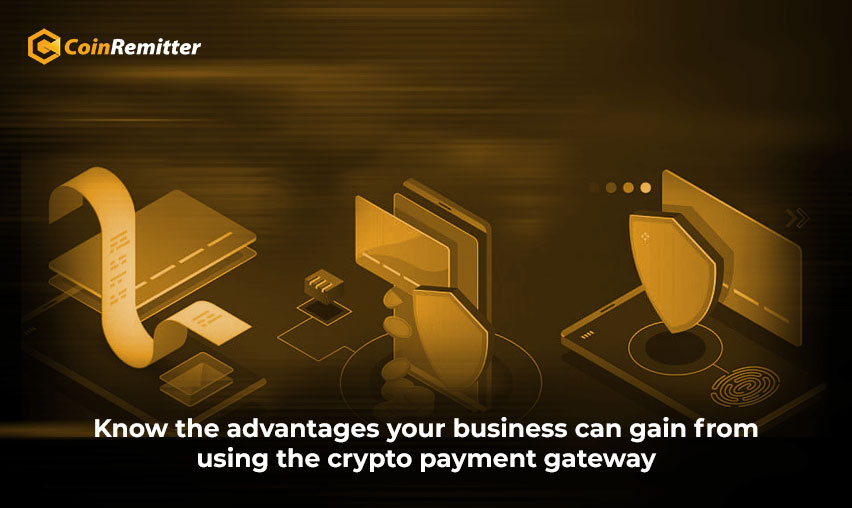 It has been observed that merchants from a variety of industries are turning to accept payments into cryptocurrency to enjoy a number of advantages that are not provided by conventional payment methods.
Here we've highlighted some of the most significant benefits that businesses can gain by adding crypto as a payment option.
1. Unmatched security:
Customers are not required to share any personal data when making cryptocurrency payments. The payments are completely anonymous, so hackers don't have any identifying data to steal.
In addition, many companies greatly value their privacy, so they use cryptocurrency over other payment options simply because the buyer is not identified by any means.
2. Extremely low fees:
If we talk about the payments through credit/debit cards or banks, then there are tons of fees associated with them. In short, they all charge some type of fees which usually ranges between 3& to 6%.
However, cryptocurrency payment gateways like Coinremitter charges the lowest fee (only 0.23%) compared to other gateways. This can save you a significant amount of money.
3. Take your business globally:
Now even the smallest companies can now internationally sell their products and services or buy their supplies and equipment.
Business owners can avoid the hassles and costs that come with foreign currency transaction fees and exchange rates, with the help of cryptocurrency.
4. Attract consumers across the globe:
There are numerous crypto fans out there who are specifically looking for digital currency-accepting companies.
You can also gain a serious advantage over your competitors that don't accept crypto by adding this new payment option.
5. No chargebacks:
There is no turning back in the case of cryptocurrencies. Once a transaction has occurred, the funds will go straight from one wallet to another, and the transaction will be recorded and can not be reversed.
Chargebacks are intended to STOP frauds.
Easy payment gateway integration with Coinremitter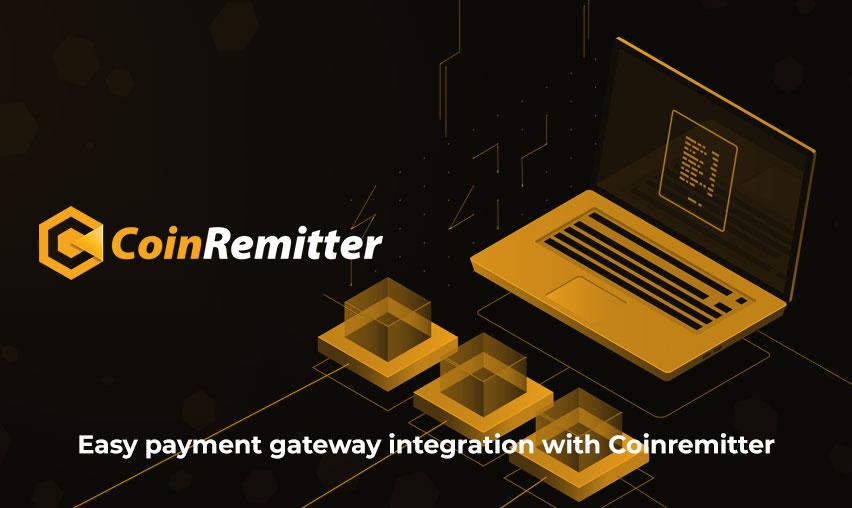 If you have made up your mind to integrate a crypto gateway on your website then you must need to know about the Coinremitter.
Coinremitter is a crypto payment gateway in which you can start accepting your payments via cryptocurrencies.
It is a merchant friendly payment gateway with a large user base. Coinremitter has overall processed 6k+ Bitcoin with 2.3M+ total transactions.
Talking about its features, Coinremitter comes with loads of essential features which include a Digital wallet, multi-wallet support, no KYC & ID requirement, currency swap and invoice creation.
The most notable feature, and one of the reasons for many traders to accept Coinremitter, is its lowest transaction fees.
Coinremitter charges 0.23% transaction fee which is the lowest among other crypto gateways.
The REASON behind its lowest fee is that it is created specifically for traders and small/large businesses to make them grow worldwide.
Moreover, the integration process of Coinremitter will not be a daunting task for you.
Follow our steps to Easy payment gateway integration in just three steps.
It's all starting with a wallet. As coinremitter provides a digital wallet service, you can start by making a wallet of whichever coin you want to list on your website.
Just fill out the details (wallet name, password, etc.) and you are good to go.
After that, you'll be required an API key & password in order to start accepting crypto payments on your website.

To get that, click on the wallet that you have just created, and you'll be redirected to the credential tab where you'll get the API.
Consider this API Guide to understand deeply.
Finally, just install the Coinremitter on your website.

Coinremitter supports a number of popular open-source plugins so you can install it according to your platform.

Check this guide for the installation process for Coinremitter.
That was all about the Coinremitter payment gateway integration.