Are you taking enough safety measures to keep your Bitcoin wallet safe?
If you are doing, then it is a GREAT thing.
But, if you are not, then it would become a serious problem for you or you even might lose everything from your wallet.
But that day will never come into your life because we are here to give you some solid actionable tips that you can consider to keep your Bitcoin wallet safe.
Although, there is no doubt that Bitcoin is a very much safe currency and nearly impossible to hack.
Still, it is your job to implement good practices in order to protect your money.
It does not matter whether you use hardware, mobile, or a desktop wallet.
Your Bitcoin will always be attractive to scammers, fraudsters, and thieves, especially if you are holding or making purchases with a huge amount.
So, without any further due, let's jump in.
What are the security risks if you do not take enough precautions to your Bitcoin wallet?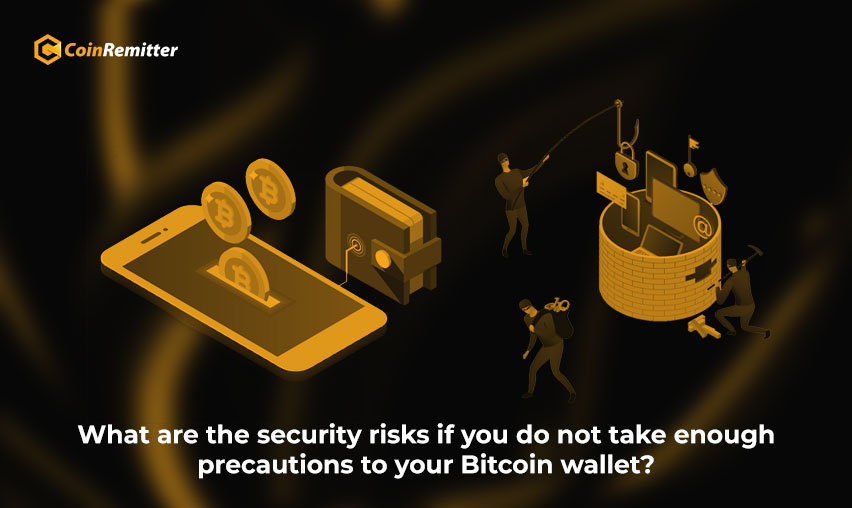 During the Coronavirus pandemic, the security risks have been increased. The hackers and fraudsters are trying to find new ways to access your wallet.
But do not worry, the crypto market can not be affected by such scams.
However, the risks are there. Below are the possible security risks that merchants could encounter.
1. Do not get overwhelmed
Yes, it can be the reason for your loss. Do not tell someone if you have profited from Bitcoin that you invested in a couple of years back.
This exposes you to all sorts of attention and makes you a target out there for really bad people.
Use common sense, you can be an easily targeted person both digitally and physically.
2. Scams involving phishing
During the pandemic, emails claiming to come from reputable sources such as charities and government agencies have increased.
How do these scams happen? This allows individuals to click on links to donate or buy personal protective equipment.
These links are HIGHLY vulnerable from malicious websites where personal information can be leaked to hackers, such as private keys of crypto exchanges.
3. Scams related Investment
There are fraudsters who will act as a crypto-trader and tell you the high returns are now on cryptocurrencies just to make you fool.
They take the help of social media and emails to target users.
The predominant cryptocurrency on the market is now "Bitcoin".
4. Never forget "Ransomware"
Ransomware can restrict a user from accessing a computer and its files, most commonly in Bitcoin, until the ransom is paid to hackers.
They also request payments via Bitcoin or other cryptocurrencies.
If you do not want to get into these troubles then install not just any but a legitimate anti-virus on your computer that protects your pc from any kind of current and upcoming viruses.
Now, let's understand the ways that you can protect your Bitcoin wallet.
12 actionable advice that can keep your Bitcoin wallet safe
Despite these security risks, using crypto wallets is one of the best options to secure your cryptocurrencies.
If you take these tips into account, you will be free from any scams and security problems and your money will be out of any danger.
NOW, take a look at the safety measures you should take to protect your Bitcoin wallet.
1. Online Wallet:
Using online wallets can store your private Bitcoin key online. It is a web-based wallet that can place great power into the hands of the organization that runs your online wallet because they have the private key.
It is always good to have access to your online wallet so that you can use your Bitcoins anywhere at any time.
There are some good legitimate online wallet providers one such example is Consider "Coinremitter". It offers a bit more security like (2fa) and also encrypts your private keys.
2. Use two-factor authentication (2fa):
You must have heard about the two-factor authentication that just doubles your security with extra code.
It is essential to have two-factor authentication to your wallet, you need to take an additional security step rather than using only one password to access the crypto wallet.
3. A trusted password manager:
It might be challenging for you to remember the code of your private keys, which gives you access to your crypto wallet.
Now in this case you need a reliable password manager that can store and retrieve your code.
And you will be free out of the hurdle to remember your private keys.
4. Use a solid password for your Bitcoin wallet:
It will be not any random password which generally includes birthdates, names, phone numbers, etc. You need to create a tremendously strong password for your wallet.
Your strong password should have contained the letters, numbers, punctuation marks and must be at least 14-18 characters long.
The safest passwords are those created specifically by programs designed particularly for that purpose. Remember your password or keep it in a very safe place.
5. Never give away your private key:
As its name depicts, your private key should be limited to yourself.
Your private key is highly confidential. Do not share it with anyone and do not ask for transactions to be made for you by someone else.
Moreover, do not trap into the proposals or requests that involve a third party or person asking you to share your private key.
6. Save your private at a safe place:
Secure your Bitcoin wallet by saving its private key in a safe place.
It is recommended to write down the private key on a piece of paper and hide it to the location which can only be accessible to you.
Do not take the risk of saving on an electronic device, rather you have a very safe alternative.
7. Separate your wallet for daily transactions:
A very smart idea to separate your wallet if you use Bitcoin for your daily transactions. It also helps you in your time of need.
One great thing is that there is no limit on how many wallets you create.
The benefit is that the protection of your entire portfolio can be strengthened by sorting your transactions and keeping the most important ones apart.
8. Take backup your Bitcoin wallet from time to time:
Backing up your Bitcoin wallet regularly will protect you from computer crashes and a lot of human mistakes. It also helps to recover the data (only if you encrypted the wallet) if your device gets stolen.
It is less likely that any bad incident will keep you from recovering your wallet if your backup is not based on a single location.
Make sure that by periodically backing up all recent Bitcoin address changes and new Bitcoin addresses that you've created should be included in your backup.
9. Always verify the Bitcoin address:
You should always carefully check the recipient's Bitcoin address when making transactions.
When you copy and paste a Bitcoin address and change the pasted output to another address, there are malware programs that can 'intervene'.
You will end up giving your Bitcoins to someone else if you do not take enough care checking the wallet address.
10. Stay away from the suspicious links:
Whenever you surf the internet, just make sure to not click on any unknown or strange link.
Internet scammers are everywhere they can duplicate entire websites and use URL addresses that are almost identical to the legitimate ones.
If you use an online wallet or a similar service where you are required to enter the private key, make sure to verify that the website address is the authentic one.
11. Update your device software and antivirus:
Check for the update of your antivirus regularly.
A daily upgrade of the software and antivirus solution is one of the best ways to improve the system to reduce vulnerabilities.
To prevent data breaches, you should always use the right security measures. The tips offered will enhance your protection online and help secure your Bitcoin wallet.
12. Use a VPN (a virtual private network):
Another way to improve your security is by using a Virtual Private Network app.
Using VPN you can encrypt your online connection, blocking hackers from tracking your crypto exchanges. To ensure their privacy online, many crypto traders use this method.
Final words:
These are the security risks and the possible precautions that you can take to keep the Bitcoin wallet safe and not let the scam happen to you.
No one is responsible if something happens to the security of your Bitcoin wallet.
The cryptocurrency scene is continually changing day-by-day and security systems are becoming more enhanced.
You should take all appropriate security measures and keep up-to-date with the latest changes and security upgrades.