Today we are going to discuss Bitcoin vs Ethereum (huge currencies in the market), like what are the similarities, the differences, etc.
There are thousands of cryptocurrencies in the market and new ones are coming day by day, yet these two currencies still stand on TOP.
However, if we talk about the blockchain of Ethereum then it is totally different from bitcoin's blockchain.
Bitcoin was exclusively developed as a digital currency while the Ethereum blockchain is a more general blockchain technology implementation.
Both coins allow anonymous transactions and there is no government involvement in managing or controlling the currency.
What is Bitcoin?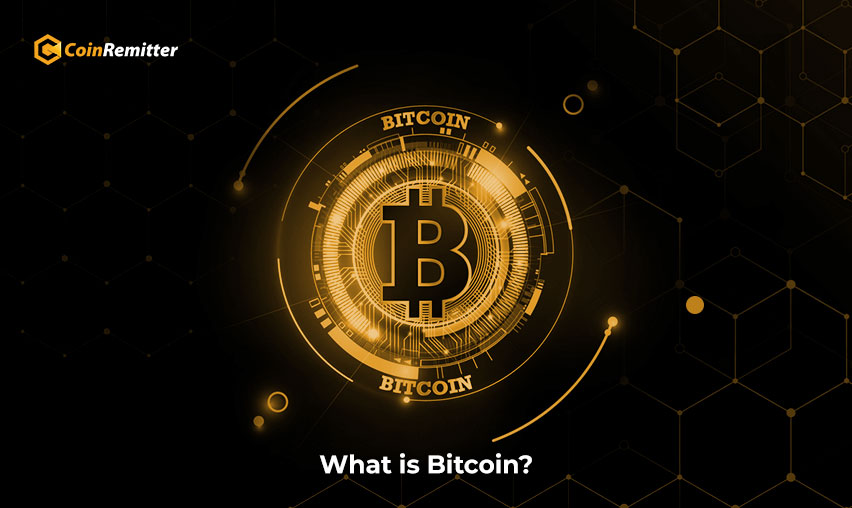 Bitcoin (BTC) is a decentralized cryptocurrency that allows people to send and receive money around the world. It is the main cryptographic capital ever to exist. Read everything about Bitcoin here.
What is Ethereum?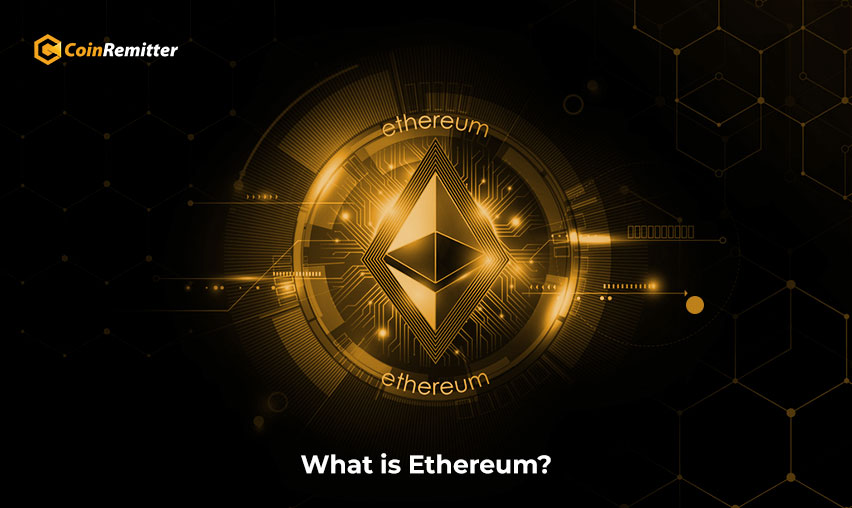 Ethereum is an open platform for blockchain, allowing everyone to create and use decentralized apps running on blockchain technology.
It is an open-source project created by many people around the globe. It is the same as Bitcoin no one owns or handles the Ethereum.
However, Ethereum is totally different from the Bitcoin protocol, Ethereum was designed to be flexible and scalable.
Moreover, Ethereum allows users to build their own operations of whatever complexity they choose, rather than giving users a collection of predefined operations (for example, Bitcoin transactions).
Ethereum allows smart contracts and decentralized applications (dApps) to be deployed and run without any third-party downtime, fraud, control, or intervention.
Ethereum's potential applications are wide and driven by its native cryptographic token, ETHER.
Ether is like the fuel on the Ethereum platform for running commands and is used by developers to create and run applications on the platform.
Ether is primarily used for two purposes. First, it is used as a digital currency exchange in the same way as other cryptocurrencies and second, it is used to operate applications on the Ethereum network.
Now let's dig in straight to Bitcoin vs Ethereum.
Bitcoin vs Ethereum: Comparison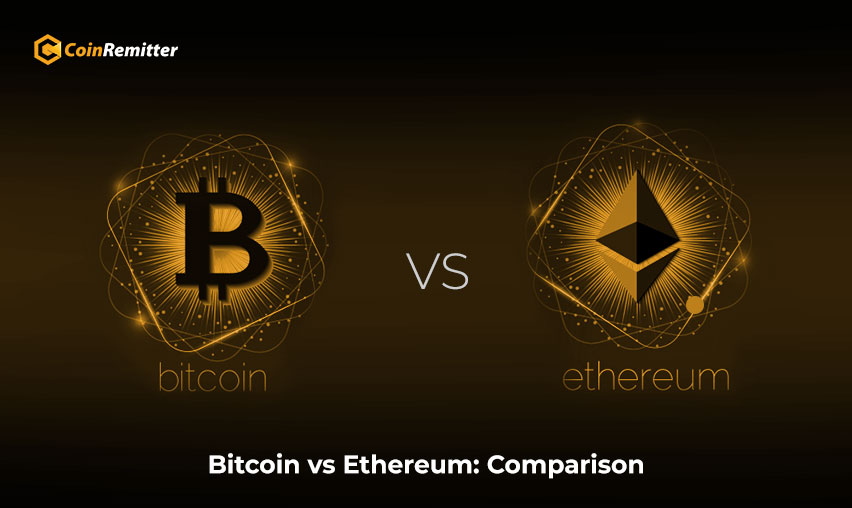 Bitcoin and Ethereum both have been gaining great hype these days.
Moreover, Bitcoin has become a globally famous and well-known cryptocurrency. it still has the largest market value compared to all of the cryptocurrencies available right now.
Conversely, Ethereum did not have a groundbreaking influence like Bitcoin, but its developer learned from Bitcoin and created more features based on Bitcoin principles.
Ethereum is actually the second-most-value cryptocurrency on the market.
Let's understand the difference by considering the various aspects.
Purpose:
Bitcoin is a digital currency or also it can be considered as an alternate currency. Whereas, Ethereum enables peer-to-peer contracts and applications via its own currency vehicle.
That's why Bitcoin has emerged as a digital currency which is more secure, while Ethereum is more about smart contract apps.
By serving as a building platform for DApps/smart contracts, Ethereum also differs, allowing it to submit tokens that represent values.
Other than digital currencies, these values can be stuff, making it distinct from Bitcoin.
Price predictions:
As per the investing purpose, let's first talk about the price prediction of both ETC & BTC.
BTC closely follows the pattern of the previous two halves, as per the stock-to-flow price model.
The model indicates that, over this four-year halving period, BTC could hit $288,000.
Likewise, data research firm Econometrics recently released a $41,000 price target for BTC by the end of 2020.
All in all, both cryptocurrencies may be interesting opportunities for investment and have a position in an investment portfolio.
Mining:
In Bitcoin, with the method known as work proof, miners can verify transactions. The same process goes with Ethereum.
However, Ethereum is going to switch to proof of stake. Now, what is proof of stake, well with proof of stake, a person can mine or validate the transaction in a block based on how many coins he owns.
In the case of Bitcoin, each time a miner adds a block to the blockchain, he will be rewarded with 12.5 Bitcoins. The next time the payout will be cut in half in 2020.
For Ethereum, any time a block is added to the blockchain, a miner or validator obtains a value of 3 ether in Ethereum, and the reward will never be halved.
Fees:
Starting with Bitcoin, for each and every transaction, miners charge certain transaction fees.
If you want to process your transactions more efficiently, you can apply larger fees to your transaction which can then attract miners.
On the other hand, Ethereum does not use transaction fees, but it has a gas system. Gas is a device that calculates the amount of machine effort needed to conduct such operations.
Solidity is used to code all the smart contracts that run in the EVM. A certain amount of gas is required for each line of code in solidity to be computed.
Block Size:
One of the most asked questions is the "block size". 
In comparing Bitcoin versus Ethereum, the block size is significant. It plays a key role in the determination of a blockchain's transaction costs, confirmation times, and scalability.
Currently, blocks are 1 MB on the Bitcoin network. Disagreements about the size of the block finally led to Bitcoin Cash being produced as Bitcoin's fork.
Whereas talking about Ethereum, the size of the block is measured in gas, with each block limited to 12.5 million gases.
As recently as June 2020, the gas limit was raised from 10 million to relieve the burden on the network, improve processing capacity, and minimize the fees.
Daily Transactions:
Bitcoin has been handling more than 25k+ transactions per day. The last record on 29 Sept 2020 was 297814.
As cryptocurrency interest grew and cryptocurrency market caps hit peaks during the crypto boom of 2017-early 2018, regular transactions on December 14, 2017, also grew to a total of 490644 transactions.
On the contrary, the daily amount of transactions done on the Ethereum network is represented by Ethereum Transactions Per Day.
Ethereum Transactions Per Day is at a current level of 1.088M on 29 Sept 2020. It was the highest recorded at 1.35 million transactions on January 4, 2018.
Time:
As for the average amount of time, it takes 10 minutes for Bitcoin to add a block to the blockchain and It just takes about 12 to 15 seconds for Ethereum.
Check out our guide on which cryptocurrency offers the fastest transaction speed.
Hash Algorithms:
Hashing algorithms mean how these systems can protect their privacy and ensure safety.
Bitcoin uses an SHA-256 hashing algorithm, whereas Ethereum uses a cryptographic algorithm called Ethash.
Technology:
In terms of technology, Ethereum takes the prize. Here are the reasons why Ethereum is better at technology than Bitcoin.
In 2015, the Ethereum blockchain was released. In contrast to the Bitcoin blockchain (released in 2009), it is 6 years younger and further established.
Ethereum brought smart contracts. Moreover, you can use smart contracts for a lot many things compared to Bitcoin uses.
A more advanced edition of Bitcoin's blockchain is Ethereum's blockchain. It solves some of its problems and adds new functionality, such as smart contracts.
Ethereum's transactions cost much less, yet they are faster too.
Last but the least, The transaction fees of Ethereum are far lower than the transaction fees of Bitcoin.
Bitcoin vs Ethereum: which currency is better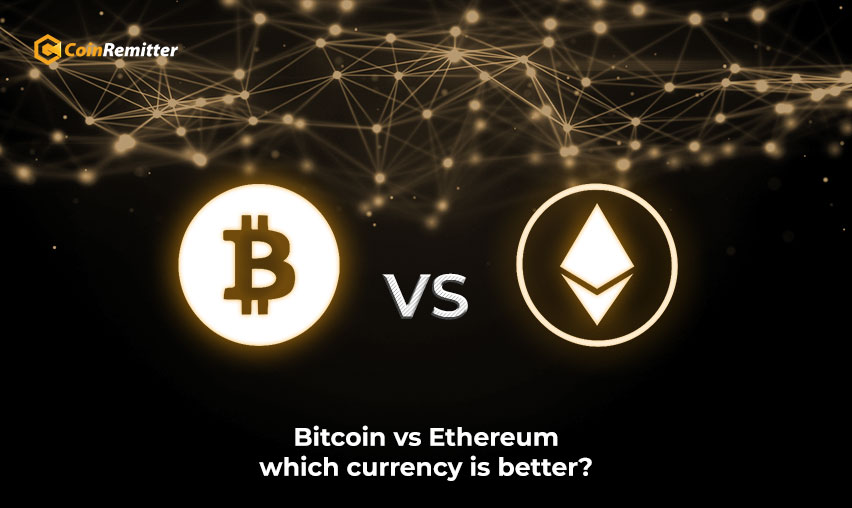 Though, both currencies Bitcoin and Ethereum have their own advantages.
Bitcoin has a smaller supply of coins and is more liquid than Ethereum, but Ethereum has stronger technology than Bitcoin and offers more benefits.
Moreover, if we talk about the peer-to-peer transaction system, then Bitcoin works better. And Ethereum works well when you need to develop and build distributed applications and smart contracts.
Now the decision is on your own!
Conclusion:
Both Bitcoin and Ethereum are highly important and useful.
Even if you are not a serious investor/merchant in cryptography, by buying BTC or ETH tokens, you will not go wrong.
They both add enormous value to the world of crypto.
Ethereum has unlimited use cases, whereas Bitcoin just solves problems with transfers and banking.
No doubt, Bitcoin has a better value and position in the market, but Ethereum has improved technology and greater ability.
If you want either of these currencies to use on your website as a payment option you can consider the reliable payment gateway "Coinremitter". Which can seamlessly handle all your transactions.
So, what are your thoughts on Bitcoin vs Ethereum? Have you figured out which currency works best for you?
Share your thoughts in the comments, we would love to hear.