Setting up a Bitcoin Gold payment gateway onto your site can give your customers another opportunity to pay for their goods.
However, it does not only offer a different mode of payment but, it also attracts clients from across the globe.
But how can this happen? (you might have this question in your mind)
Because, before the integration of the Bitcoin Gold payment gateway your customer had no option except to pay with credit/debit and PayPal.
So they tended to return from your website without making any purchase.
BUT, this is not the case with Bitcoin Gold or any other cryptocurrency. You'll be have every payment option listed on your website.
What it does is that this can let your customers make a purchase from their preferred payment option. Ultimately, you'll gain new consumers and it will help in growing your business internationally.
Now, let's get to know about what is Bitcoin Gold.
Bitcoin Gold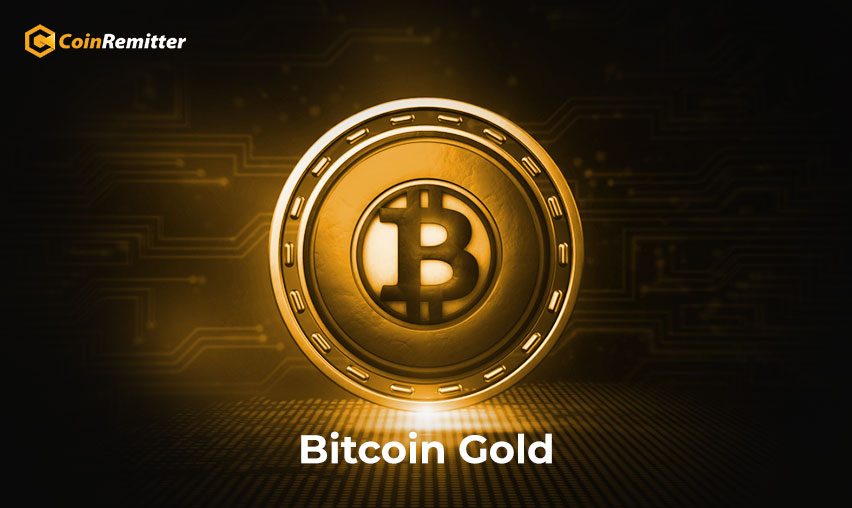 Bitcoin Gold (BTG) is a new form of cryptocurrency that emerged as a result of a hard fork in Bitcoin and strives to be more decentralized than Bitcoin.
It is used as a peer-to-peer currency capable of managing day-to-day transactions and competing with conventional credit card transactions like Visa.
BTG utilizes the same PoW consensus algorithm as BTC, so the only distinction among them is the use of the Equilash hash algorithm rather than SHA 256 to avoid Bitcoin Gold mining unless it is done with ASIC equipment.
Bitcoin Gold can be used just as Bitcoin Cash can be. It is a legal cryptocurrency, which can be used to transfer money or use it for investment purposes to others.
SO, before we move on to the integration part let's look at some of its advantages. You'll get to know how it's beneficial to your business as well as your current & future customers.
Advantages of Bitcoin Gold to merchants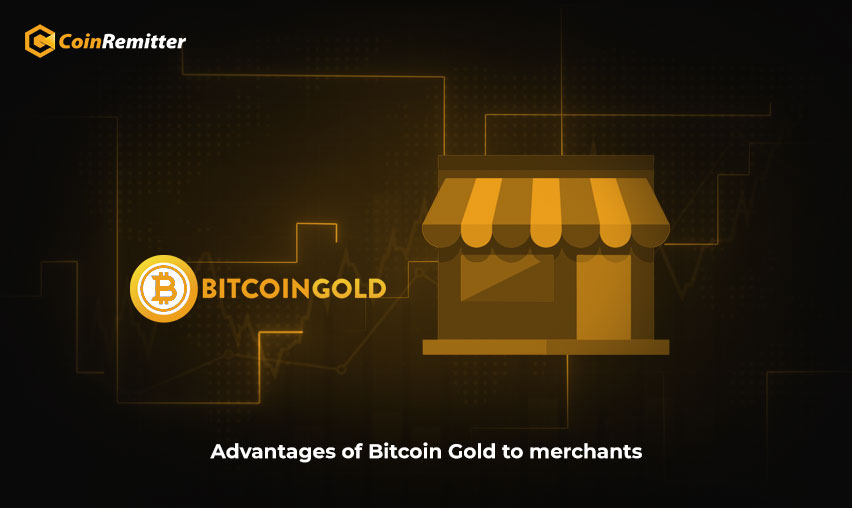 Bitcoin Gold is pretty much like Bitcoin except for a few distinctive characteristics.
These are the leading advantages: Fungibility -1 BTG is at any time equal to 1 BTG. The BTG is similar, replaceable, and interchangeable as a fungible digital currency.
Here, we have listed the advantages of your business as well as for your customers.
Profits your business:
Usually, you can collect payments from BTG a few seconds after your customer sends them. That's because the conventional payment processors don't slow down transactions.
Acceptance of Bitcoin Gold offers the company the potential to grow into an emerging client base for the future of payments and tap: people directly looking to invest their Bitcoin Gold.
Since Bitcoin Gold transactions are irreversible, it becomes difficult to recover charges. Instead, consumers may be refunded at their own convenience.
One of the key benefits of using Bitcoin Gold is that it offers security and relative anonymity. No personal details are needed to access the Bitcoin Gold wallet.
Profits your customers:
Bitcoin Gold like Monero utilizes complete anonymity for transactions, protecting senders and receivers' wallet addresses on the network.
Thanks to its improved design, it allows for quicker transactions. While Bitcoin is thought to generate around 5 transactions per second, it is estimated that Bitcoin Gold is up to 27 TPS.
It's easier to pay with Bitcoin Gold, although there is no need to carry credit/debit cards. Users only have to enter their name and shopping information and they're good to go.
Bitcoin Gold is decentralized and there are no intermediaries operating the network, the transaction fee is also quite low.
Begin accepting Bitcoin Gold payments via Coinremitter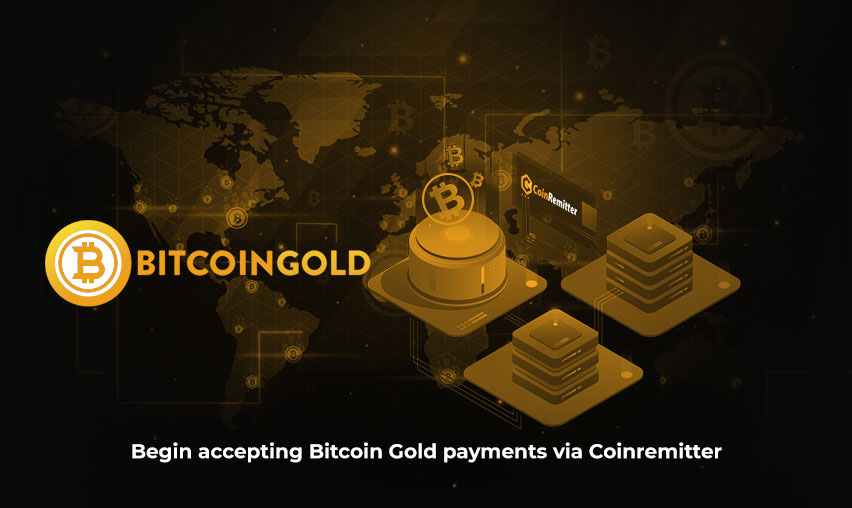 Why to delay?
TO stand out from the crowd, you have to take the step NOW!
Coinremitter will help you with that.
BUT first, understand why you should install coinremitter in order to accept BTG payments.
Coinremitter is a Bitcoin Gold payment gateway, also it offers many other currencies to integrate other than bitcoin gold.
It is a merchant friendly payment gateway that offers tremendous features to its users such as currency swap, invoice creation, multi-currency wallet, No KYC requirement, 24/7 support, and more.
Moreover, it offers the lowest transaction fees (only 0.23%) which makes it very AFFORDABLE to everyone.
So that was all about its features and specifications now let's head on to the integration process.
First and foremost, you need to build a Bitcoin Gold wallet so you can start accepting your consumers' BTG payments.
After setting up a wallet, you'll need to have an API key. You'll get it by clicking on the BTG wallet. Read Get API key process.
Then, you are good to install Coinremitter on your platform. Moreover, Coinremitter supports the most renowned open-source plugins such as Laravcel, Magento, OpenCat, WordPress, etc.

Install according to your platform, as every platform has a different integration guide.
To sum up:
As you have seen the advantages for your customer and also for your business. By doing this, you are helping your clients and eventually, it's going to help your business to grow.
Moreover, you can even list out "Bitcoin Gold Accepted Here" next to your Paypal, debit/credit, and other payment options.
This will draw the attention of your customers.