Ethereum is familiar to all of us, but now the bigger update "Ethereum 2.0" is on its way to launch on December 1, which will ultimately improve scalability, security, and sustainability.
Also, various teams of the Ethereum ecosystem are building these upgrades.
The long-planned Ethereum network update is on the horizon to address problems with the scalability and security of the network.
Ethereum 2.0 will come out in several "phases." Each phase will boost Ethereum's functionality and performance in numerous ways.
The beacon chain genesis of Ethereum 2.0 is now planned to take place on the earliest feasible launch date of December 1.
Let's go deeper to understand Ethereum 2.0 and what significant improvements are coming out of it.
The Use of Ethereum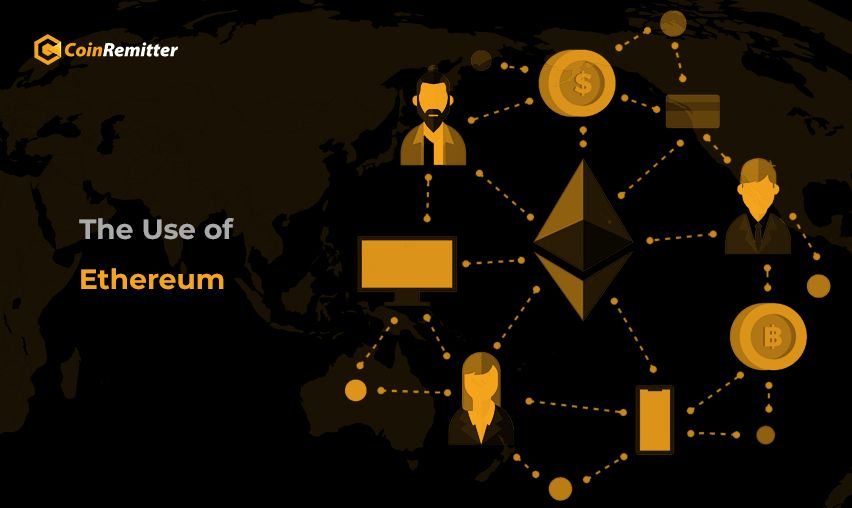 Ethereum is accessible to everyone. There is no involvement of the government or corporation in Ethereum.
Also, it is almost impossible for someone on Ethereum to prohibit you from collecting payments or using services.
Ethereum provides you convenient access to financial services and an internet connection is all you need to access its lending, investing, and savings services.
Moreover, to use an Ethereum application, your personal details are not required.
Without going through intermediary firms, you can also make deals and directly transfer cash to someone else with Ethereum.
All the time better apps and experiences are being developed because Ethereum products are by default compatible.
Moreover, customers have a secure, built-in assurance that if you provide what has been negotiated, funds will only change hands.
What is Ethereum 2.0?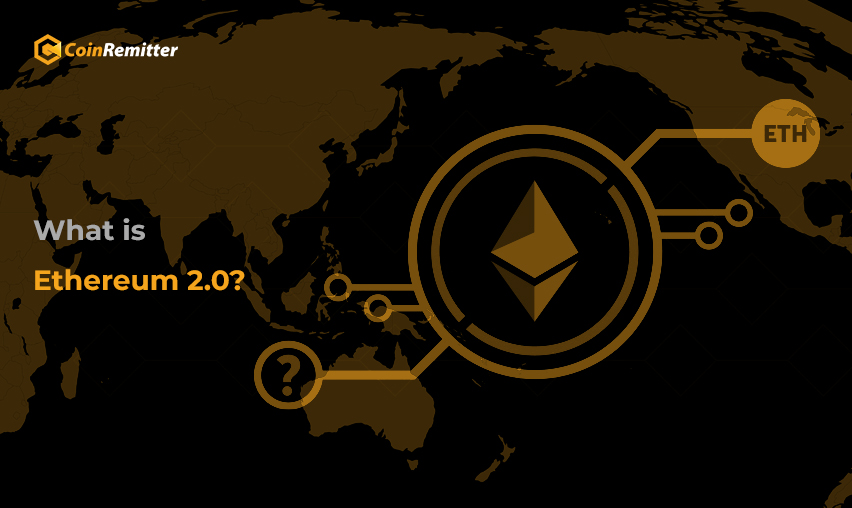 By market cap, Ethereum is the second-largest cryptocurrency. The team of Ethereum is now planning to give a major update to its network. It is going to roll out on Dec 1, 2020.
Moreover, Ethereum 2.0 can also be understood by Eth2 or "Serenity". The coming upgrade of Ethereum 2.0 will be more scalable, fast, and safe by introducing new proof of stake (PoS) protocol, virtual machines (VM), sharding, and more.
What is New in Ethereum 2.0?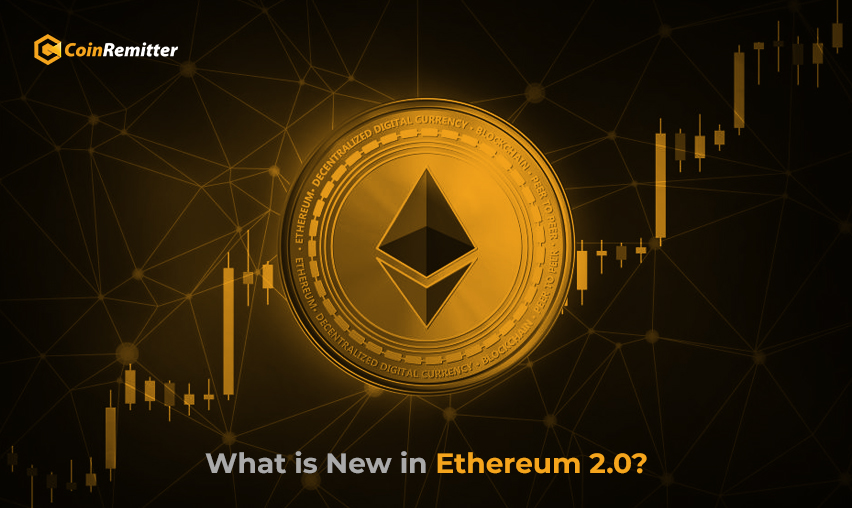 This is the upgraded version of Ethereum 1.0 so there are some changes and improvements in it.
This new upgrade "Ethereum 2.0" offers two major improvements such as Proof of stake and Shard Chains.
Proof of Stake:
Presently, the Ethereum blockchain works on the proof of work consensus protocol.
The current consensus relies on solving complex math problems via huge computing power.
Moreover, this uses a lot of energy on the blockchain to check transactions.
On the other hand, Proof of Stake (PoS) depends on ether validators and deposits, saving a significant amount of energy consumption.
Shared Chains:
Each blockchain node must save the entire copy of the distributed ledger, making the process of verification slower.
What shard chains do is that a transaction is broken down into shards (small bits of transactions) and distributed to the network.
Each node can operate side-by-side on verifying transactions, reducing the time taken overall.
EVM to eWASM:
Smart Contracts are pieces of code that run automatically when a specific event occurs.
Also, they are the Ethereum blockchain's USP and are the network's real foundations.
In Ethereum 1.0, on the Ethereum Virtual Machine (EVM), these smart contracts were executed.
The EVM is an environment that allows for the execution of the actual code of smart contracts and dApps, the storage of the database, and the documentation of transactions.
Furthermore, Ethereum 2.0 supports the use of the Ethereum Web Assembly or eWASM. The language of the web assembly allows the code to be executed anywhere in the web browser.
When it comes to strengthening security, eWASM is better than EVM. For writing code for smart contracts and dApps, it supports various conventional programming languages such as C, C++, and Rust.
Utter Security:
With security in mind, Ethereum 2.0 has been invented. There are a limited number of validators in most proof-of-stake networks, which allows for a more centralized system and reduced network security.
At minimum 16,384 validators are needed for Ethereum 2.0, making it much more decentralized and thus, stable.
For Ethereum 2.0, the Foundation is setting up a dedicated security team to study potential cryptocurrency cybersecurity issues.
The Phases of Ethereum 2.0 (Roadmap)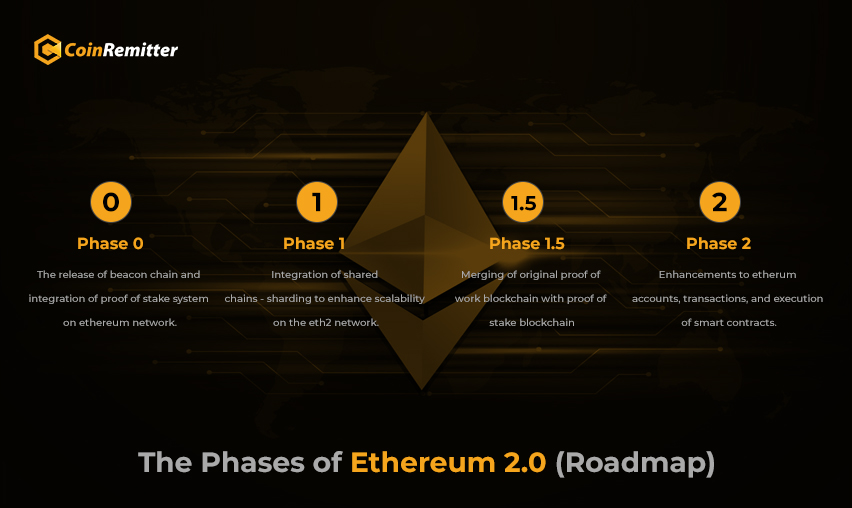 This Eth2 update will be released in phases in order to ease the transition for Ethereum users to the new platform. The date has come out of the Phase 0 launch on Dec 1.
There will be a total of four phases:
=> Phases 0, 1, 1.5, and 2.
Let's commence by looking at the Ethereum 2.0 Roadmap.
Phase 0:
On December 1, Phase 0 of Eth2's beacon chain will take place. Proof of Stake (POS) will be enforced by the beacon chain and the validator list will be monitored, which will begin to confirm the existence of blocks on eth2.
On November 4, the conversion of 524,288 Ethereum from 16,384 validators into the Ethereum 2.0 deposit contract was carried out.
However, the people who have participated in Genesis will not withdraw their coins until Ethereum 2.0 hits Phase 1.5.
The actual Ethereum PoW blockchain will persist to operate as the beacon chain goes live and Proof of Stake is integrated.
Phase 1:
The launch of Phase 1 is scheduled to take place somewhere in 2021.
Implementation of shard chains is the primary creation of Phase 1. The information on shard chains is mentioned above.
Moreover, sharding would result in the Ethereum blockchain being split into 64 different chains (called shard chains) for Ethereum 2.0, which run parallel to each other and seamlessly interoperate.
Phase 1.5:
Phase 1.5 will be the temporary update in 2021. The Ethereum main net will officially become a shard and turn to the proof of stake.
Phase 2:
And in late 2021 or maybe in 2022, the final phase will roll out. As of now, not much has been determined about this phase.
Phase 2 according to sources, will include adding accounts, allowing transfers and withdrawals, developing development environments to create DApp on top of Ethereum 2.0, and having people use the updated blockchain.
And Ethereum 1.0 (based on PoW) will be fully gone by then.
The Bottom Line
In the blockchain ecosystem, Ethereum 2.0 has been long-anticipated and much debated.
Scalability, protection, and accessibility will be dramatically improved by proof of stake and sharding.
Ethereum 2.0 presents a new way for ETH holders to participate and gain rewards for sustaining the network.