Before 2021 Bitcoin, and other cryptos were there but didn't have the attention of people and were way far to be in the mainstream.
All of that changed in 2021 when cryptocurrencies were adopted at both the corporate and governmental levels.
Raising everyone's awareness and pushing talks about the use of cryptocurrencies for everyday transactions.
Businesses that embraced the technology early on, for example, by accepting cryptocurrency payments for goods and services, are already reaping the benefits, and it appears that they will do so in the future.
When we talk about cryptocurrency and blockchain technology in the year 2021 we can't ignore talking about the upsurge of Non-Fungible Tokens, or NFTs.
These digital tokens, which are stored on a blockchain, may be purchased, sold, or transferred by the holder.
And represent items such as artwork, and more, which has pushed the conversation of cryptos worldwide from common to popular public figures.
Apart from that, the most talked-about topic was Bitcoin becoming legal tender in El Salvador. It is no longer a secret that the usage of cryptocurrency as a payment method is accelerating.
Every day, new merchants are joining this trend, the number of transactions grows dramatically, and the amount transferred each month is in the hundreds of millions.
Also as the price change happened this year which was something that completely changed the way any person used to look at cryptocurrency.
So, when it comes to payment in cryptocurrencies some cryptos have played an important role in the market for the people, let's see the top three cryptos which have made their way to businesses.
Top Three Cryptocurrencies Use As Payment In 2021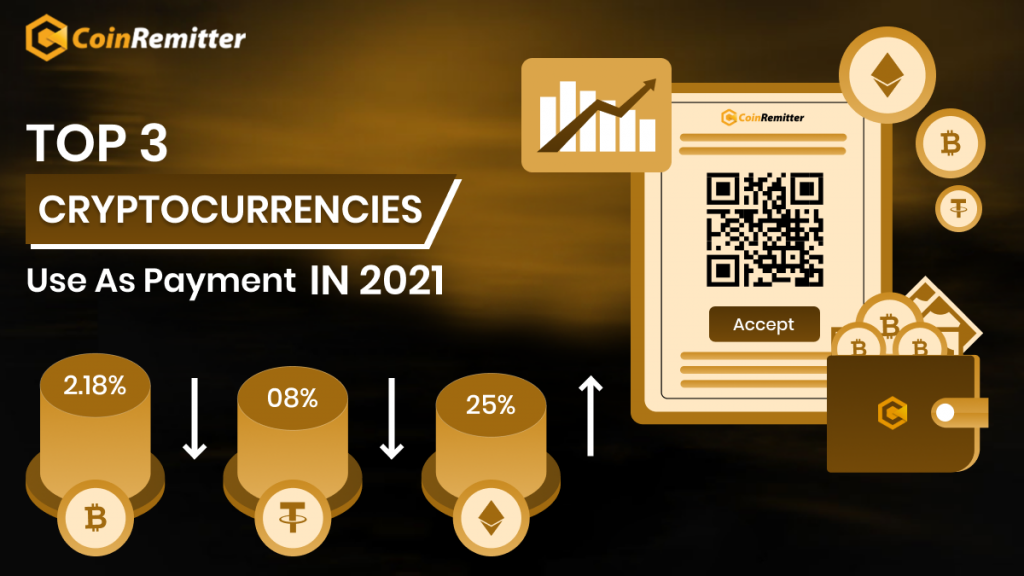 Bitcoin was the first cryptocurrency to be developed and is the most widely used cryptocurrency this year. Even though overall volume declined by 2.18% from February, it still accounts for nearly half of the total volume received by the merchants.
Ethereum after Bitcoin is the second-largest cryptocurrency in terms of market capitalization.
It has suffered an 8% drop in transaction volume since January, but it is still the third most used cryptocurrency for payments.
Tether is the most well-known stablecoin, a coin whose value is stable and tied to fiat currencies such as the US dollar. It is the second most popular digital currency among those who choose to pay using cryptocurrency.
Its volume has more than quadrupled since the beginning of 2021, and it now accounts for over 20% of all cryptocurrency payments processed.
Ways CoinRemitter Made Crypto Payment Easy In 2021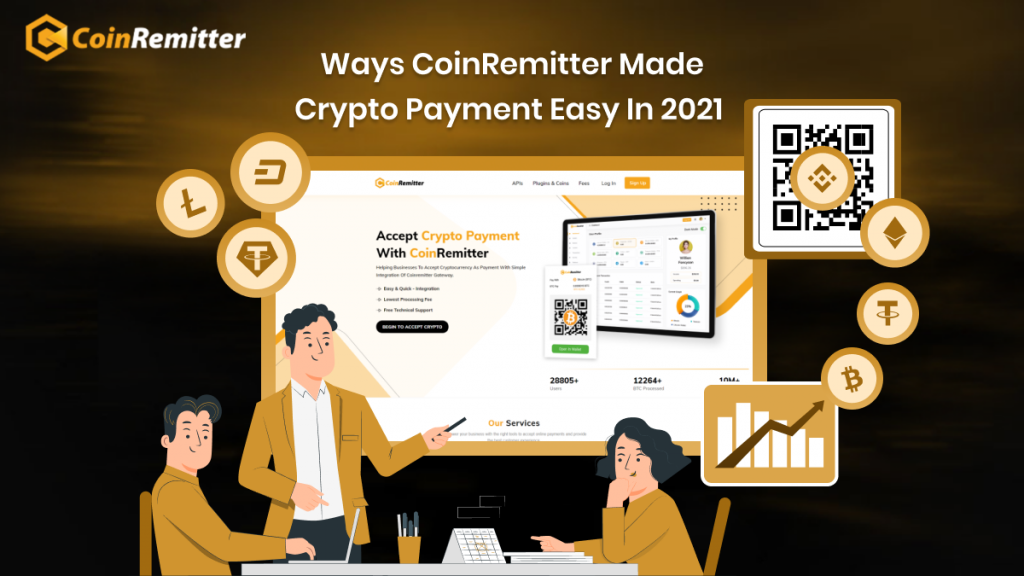 In 2021, crypto payment has reached a wide audience, and to provide a better and faster transaction Coinremitter has made their services very reliable and secure.
Aside from the cryptocurrencies shown above, "Binance Coin" is one of the cryptocurrencies that has received a lot of attention in the market this year, and its growth is impressive.
Coinremitter has become one of the crypto payment gateways to embrace the "Binance Coin," allowing anybody interested in accepting payment in this cryptocurrency.
And to begin with, the rising market and gaining a strong grip on the targeted audience.
Coinremitter has also made its services more perfect, secure, and global so that anyone from anywhere in the world can easily join the crypto sphere.
And with merchant solutions such as invoice generation and coin swap, it provides a complete solution in one place.
As a result of these services, an increasing number of people have begun to use Coinremitter for crypto transactions.
Apart from that, Coinremitter continues to make new changes in its services in response to changing modern world demand.
As you may have seen with Tether, which is one of the most used cryptocurrencies from transactions this year, Coinremitter has made its USDT ERC-20 token available for the global market.
This not only provides consumers with more cryptocurrency options, but also provides a stable, and secure transaction, and protects businesses from market volatility.
With over $10 million in cryptocurrency payments received since Coinremitter's establishment, and 30,000 registered customers.
We have become one of the world's most used and trusted cryptocurrency payment platforms.
Conclusion
As we approach the end of 2021, a lot has happened in the crypto market, from major cryptos reaching all-time highs to meme coins gaining a massive market cap.
But cryptocurrency has become so popular in terms of payments, and daily business transactions, giving the world a modern change in the finance sector.
There is no question that cryptocurrencies will grow in strength and reach more people in the coming year.
However, there will always be doubts about its stability, and despite the fact that people and companies are adopting it, it will always be a hazardous asset.
2021 will be remembered as a historic moment in the blockchain and cryptocurrency field, both in terms of the technology that powers it.
And the broad use and acceptance of it by financial institutions and individuals worldwide.
If you want to start accepting cryptocurrency and be a part of the growing sector of the crypto community, you can do so instantly and seamlessly with the help of Coinremitter.
With its great features and reasonable fee structure, you can make the most of it and take advantage of cryptocurrencies in a really good way.