A step of opting to go with the Ethereum payment gateway to accept your payments via Ethereum will significantly benefit your company and your customers as well.
As cryptocurrencies become increasingly popular, it's WORTH considering to accept Ethereum and other digital cryptocurrencies as a form of payment.
BUT how exactly does this help your business and why should you consider integrating an ethereum payment gateway into your website?
Ethereum payment gateway
Ethereum is one of the Altcoins with the most popular to the date. Moreover, the use of that currency will grow exponentially with the growth of network technologies.
It is evolving very rapidly, and its price is rising dynamically. Another great thing is that when transacting through Ethereum, the speed is comparatively faster than Bitcoin.
Companies can easily start accepting ethereum payments by just integrating the ethereum payment gateway on their platform.
This model minimizing the intermediaries, lower transaction costs, along with other benefits, enables this method a sustainable business decision.
Why Accept Ethereum & Other Digital Currencies?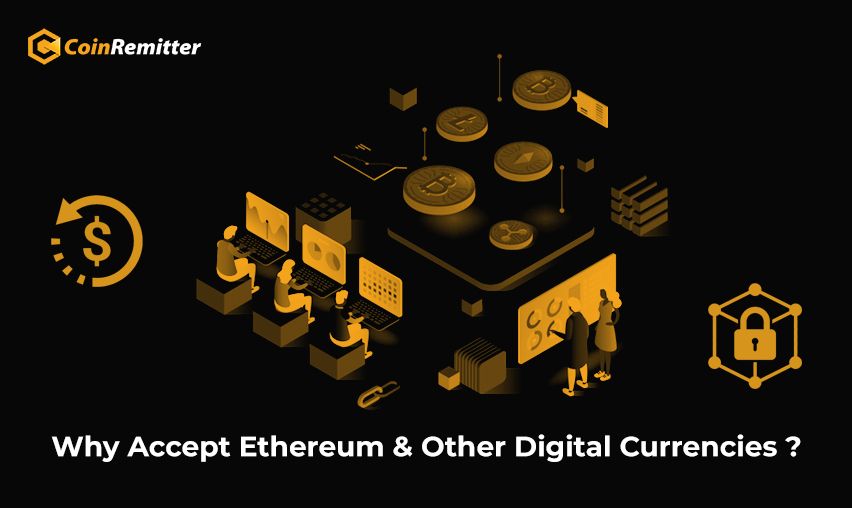 There are plenty of reasons to accept the Ethereum payments into your site and let your customers make payments through cryptocurrencies.
Offering the opportunity to accept Ethereum and other cryptocurrencies to your customers is a perfect way to improve your business and maximize your profits.
Providing cryptocurrency payment solutions will be an additional service for your existing customers. It is the perfect opportunity to attract new clients who want to pay through crypto.
Here are some of the reasons to accept Ethereum payment:
1. Zero Barriers:
Cryptocurrencies developed in such a way that anyone from any part of the world can transfer funds to someone else in another part of the world.
By adding a Coinremitter's crypto payment gateway on your website, you will be able to receive payment from customers across the globe without any government restrictions.
2. Low Rates:
Consumers will have to bear very low, manageable transaction costs. Coinremitter the crypto payment gateway offers the lowest transaction fees in the market, which is just 0.23%. So it's very affordable and convenient for every consumer around the world.
The reason to integrate coinremitter crypto payment gateway is the transaction cost for cryptocurrencies is far lot cheaper than when you make online transactions using debit or credit cards or using any other mode of payment.
3. Faster Transactions:
The transactions in cryptocurrency will accept within seconds or minutes of initiating them. This ensures you'll receive funds directly for a product or service that a customer pays for.
Unlike any other payment method, coinremitter provides a faster, reliable, and smoother experience when it comes to processing a transaction.

Although, ethereum payments are some of the world's quickest forms of payment.
4. Security:
Have you ever heard of any cryptocurrency being hacked? Probably NO.
There is no chance of cryptocurrencies to get hijacked. The blockchain is used to encrypt cryptocurrency transactions, making it nearly impossible for scams.
How To Integrate Ethereum Payment Gateway On Your Platform?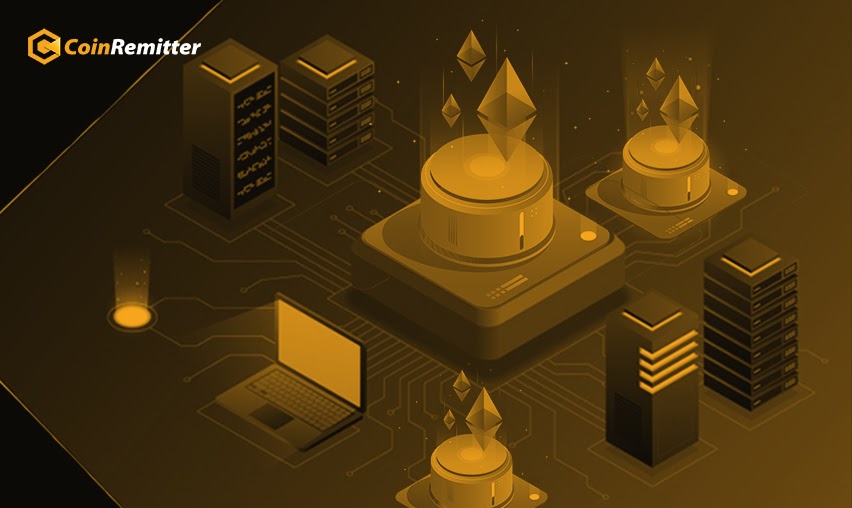 Implementing an Ethereum payment gateway is not a daunting task.
This could be done through a crypto payment gateway, it is the technology that enables businesses to automate Ethereum and other crypto-monetary payments while speeding up the transaction and removing intermediary needs.
The technology makes highly encrypted, safe payments considerably less costly than traditional online gateways.
Moreover, the method comprises using smart contracts that are used to process and validate payments between the transacting parties.
In addition, smart contracts make transactions more open and enhance. The security procedure, making payments less vulnerable to attacks that encourage both businesses and customers.
Accept Ethereum Payments with Coinremitter Plugin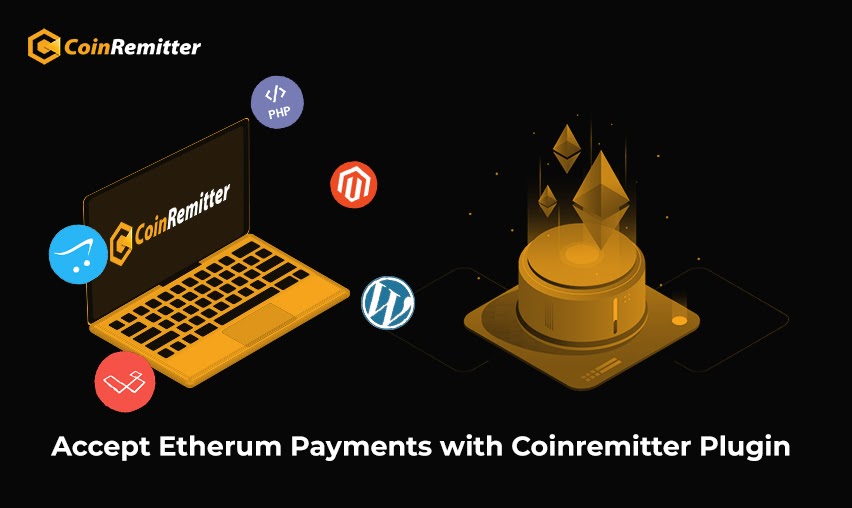 Coinremitter is the cryptocurrency payment gateway that provides quality services like multi-wallet, currency swap, create an invoice. It Accepts Ethereum and other crypto payments securely at a low cost for Merchants and business clients worldwide.
Coinremitter is already in use with more than 25000 merchants. Moreover, Around 5000+ BTC already processed with regular transactions through Coinremitter.
The MAIN advantage of using a coinremitter is that there is neither a KYC requirement nor ID verification.
Simply install the coinremitter plugin into your platform as the coinremitter supports the most strong plugins such as CorePHP, Laravel, WordPress, and more, with free API support.
To start accepting Ethereum payments, you need to create an Ethereum wallet or any other coin wallet that you want as a payment option on your checkout page.
Coinremitter supports all the popular cryptocurrencies including bitcoin, litecoin, dash, ripple, and more.
The Final Words
In short, your decision to integrate the Ethereum payment gateway would help your business expand exponentially.
As a retailer, it is now easy to embrace cryptocurrencies as a means of payment option with the use of coinremitter the crypto payment gateway.
You can easily install it on your website and start accepting cryptocurrencies as a payment method.