Sometimes gas fees can be exorbitant. Especially, while transacting in, USDT-ERC20 and USDT-TRC20. These cryptocurrencies are some of the widely adopted ones. But gas fees are something that is really bothering merchants.
For example, When you receive ERC20 tokens, it requires some Ether to process the withdrawal of ERC20 tokens, which is quite expensive and reduces the profit margin. But this can be reduced to some point with the help of the Gas station.
What Gas Station Really Is?
So, the gas station is an innovative feature available on Coinremitter which seamlessly minimizes the transaction of selected cryptocurrencies when required. Moreover, it will also pay partial gas fees on your behalf.
Let's understand this feature in detail.
How to Enable the Gas Station on Coinremitter?
Merchants can make this feature available for themselves after upgrading to the premium membership. After purchasing the premium plan, you will find an option for the gas station after going to the dashboard you can go there and click 'enable' to consume Coinremitter's gas station services.
How Does the Gas Station Work?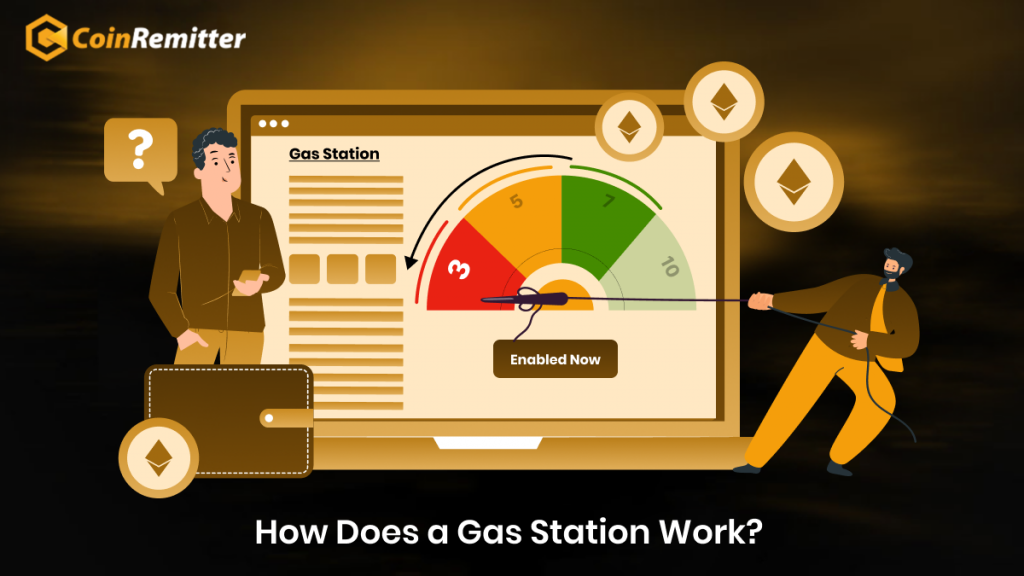 The auto-withdrawal feature gets disabled as soon as Merchants enable the gas station. The gas station will pay the gas fees on behalf of merchants during withdrawals. Merchants will be provided with a gas station address where they can deposit compatible cryptocurrencies as gas balances.
Without enabling the gas station, processing and withdrawal charges are so high. But Coinremitter strategically reduces them by collecting them in advance (from the unique GS address) from merchants. So, whenever a merchant performs a withdrawal, Coinremitter will deduct the fee amount from the GS address, which is to be paid to the network for extracting crypto tokens.
You can check the table below to get an idea of the benefits you'll have after enabling the gas station:
| | | |
| --- | --- | --- |
| Cryptocurrency | Processing Fee (Without GS) | Processing Fee (With GS) |
| USDT-ERC20 | 20 | 10 |
| USDT-TRC20 | 4 | 2 |
Fee comparison chart
Note: As soon as the merchant disables the gas station, manual withdrawals will be stopped and the consumption of fees will be started.
Some Important Notes To Remember:-
However, the gas station comes with the following conditions:
The gas station can be enabled/disabled anytime. It just takes a click to proceed with the same.
The gas balance can be withdrawn by creating a support ticket.
Merchants are expected to maintain the minimum gas balance. In case of lower gas balances, merchants can still accept payments, but they'll have to pay the regular gas fees instead of the fewer ones.
If you are withdrawing your funds as soon as you receive them then you have to pay fees during every withdrawal, even if your GS is enabled.
Conclusion:-
The gas station is a feature that mainly focuses on minimizing transaction fees on selected cryptocurrencies. Enabling it is definitely going to help merchants, especially if they're accepting payments frequently.