The cryptocurrency payment gateway has become one of the most significant things for online businesses as a result of the demand for accepting cryptocurrencies as payment.
The rise of cryptocurrencies has altered the way people conduct transactions, whether for goods or services.
What Is A Crypto Payment Processor?
If you are unfamiliar with this terminology, don't worry, we will go through it, and if you are, you should be aware of how crucial a payment gateway is for any online business nowadays, as cryptocurrencies are getting more common.
A crypto payment gateway enables merchants to accept cryptocurrency as payments. Most payment processors now support the buying and selling of various cryptocurrencies such as Bitcoin, Ethereum, Litecoin, Bitcoin Cash, Binance, and others.
Payment processors allow businesses to accept payments and store them in crypto wallets, some payment processors also allow them to convert them to fiat currency.
They allow organizations to automate these payments while also providing a variety of additional tools and reports to make the entire process as straightforward as possible.
Crypto payment gateways ensure that transactions are processed quickly and securely.
Rather than concentrating on the difficulties of beginning to take cryptocurrency payments.
More and more businesses are being motivated by the growing crypto buzz and are trying to include a suitable crypto gateway.
How Cryptocurrency Payment Gateway Can Help & Work?
Modern & Efficient Technologies
Transparency In Transaction
Minimal Transaction Fees
Quick and Easy Transactions
Integration Of Plugins
Crypto payment processor function similarly to fiat currency payment gateways.
With the exception that payments are collected on crypto wallets. Crypto wallets can have only one or multi-currency options.
Overall, the crypto payment gateway's function is to handle the essential information from merchants and users who are enabling crypto payments on the platform.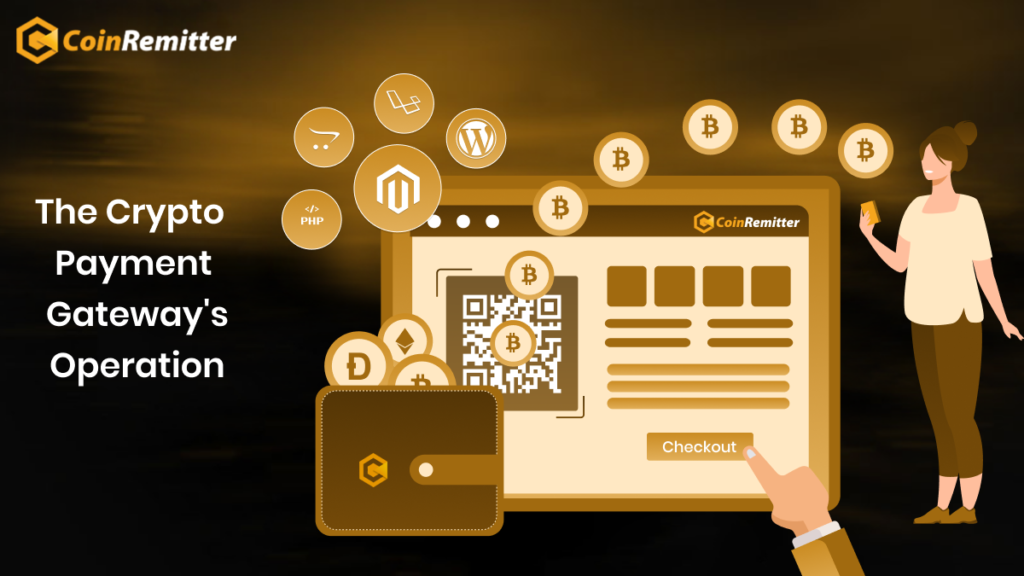 The crypto payment gateway's operation is detailed below:
When the user presses the Place Order button during the checkout process. The browser or app immediately encrypts the payment information and sends the crypto payment data to the merchant's web server.
Once the merchant has obtained the user's crypto payment information, the merchant sends the information to the administrator.
The information is then transferred to the payment processor by the admin or owner of the cryptocurrency payment gateway platform.
The payment processor then receives the request and provides an acknowledgment code.
That acknowledgment code contains all of the necessary transaction status information.
Lastly, the website or app informs the user that the payment has been completed.
Which Payment Gateway Is Perfect In 2023?
When it comes to crypto payment processors, there are currently a plethora of payment gateway providers that provide their services.
With different fee structures, functionalities, and, most importantly, a wide selection of cryptocurrencies that can be accepted with the help of it.
So, let's see which are the best payment gateway, providers.
Coinremitter
Coinremitter provides global cryptocurrency payment processor/gateway services. To online merchants who want to start accepting crypto coins as payment for their services or products.
And provides a high level of privacy, which many crypto users find appealing. With such a large user base, Coinremitter has the resources to provide better and new services to its users.
With payment gateway service they also give a digital wallet, invoice generating, and coin swapping services.
Most importantly coinremitter have their plugins & APIs that enable connections available on many platforms like WordPress, Laravel, Magneto 2, and more, which makes it easy for any new merchant to integrate payment gateway plugins and to start accepting crypto coins, and store them on a digital wallet.
Key Features
No KYC Required
All Major Cryptos (BTC, ETH, BNB, Dash, Doge, and more)
Transaction Fee 0.23%
Invoice Facilities
Coin Swap
Shopify Gateway
Shopify is one of the finest cryptocurrency payment channels in the world. In today's crypto market, we have a high-quality and secure payment gateway.
Shopify has many features, such as APIs that enable connections with Coinbase and other payment gateways, making payment processing as simple and transparent as possible.
The major disadvantage of Shopify is that businesses must first register in order to create an account, and only then can they use the payment gateway.
Transaction costs vary based on the payment processor used by the retailer.
Key Features
Quickly & Easily Payment Process
No Requirement for PCI compliance
Cross-Device Compatible
Coinbase
It is one of the largest and most popular cryptocurrency payment gateways in the United States.
Which has all of the latest security mechanisms, and functions as both a cryptocurrency exchange and a cryptocurrency payment gateway. Its payment gateway is only available in a few places across the world.
It enables quick currency conversion from crypto to fiat money without the merchant having to request a withdrawal.
Key Features
No transaction fees
Integrated with API
Invoice Facilities
GoURL
GoURL works with all major cryptocurrency wallets. It offers accurate payment breakdowns, which makes order administration a snap.
Its payment transaction will be completed in 30 seconds.
When compared to other sites, it does not provide direct bank transfers and costs hefty transaction fees. GoURL charges a 1.5 percent fee for all website payments.
Key Features
Crypto Wallet
Bonus On Registration
Affiliate Programs
No KYC Needed
Final Remark
The rise in demand for crypto processing indicates that companies want such services due to the numerous advantages of crypto processing over regular banking services.
There are several crypto payment gateways, however, I have highlighted the top ones for 2023.
Simply look through the list and select the best payment gateway for your transactions.
Furthermore, Coinremitter provides its consumers with greater service and more features than any other payment gateway provider.